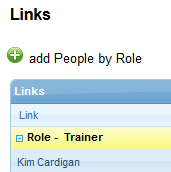 In CourseSales.com some records can be linked, for example People can be linked to a course master, so that emails come from or get sent to those people who have the specified role. PDFs can be linked to emails so that the PDF is attached to the email when it is sent to the recipient. Linking is a non-permanent way to relate one aspect of CourseSales.com to another. Links are infact the only think that you can 'remove' or 'delete' from CourseSales.com - otherwise you can only inactivate records (they stay available for later use).
Links are used in the following record relationships:
Documents link to Document topics
Course Dates link to People by Role
Course Masters link to People by Role and Files
Email Content link to File Categories and PDFs
PDF Content link to Forms
Logins link to Files, Roles and Providers
Some tips about adding links:
Be sure that you save the record after adding the links, as without saving the records will not be linked. That is other than linking topics to documents or course dates - these happen immediately.
In the case of People links at the course date these override the links at the course master, eg if Joan is the trainer on the course master, any course dates could override emails to Joan by having Paul linked on them.
Links can be removed, and not recovered. Removing a link it permenant until you re-establish the link.
Some links cannot be added until after the original record is added, eg Logins, PDFs and Emails.