Built-in Help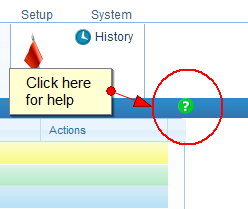 Throughout CourseSales.com there are help files, click on the green button with a '?' on the right side of the blue status bar just below the ribbon. This gives you context sensitive help files to provide guidance on how to use CourseSales.com. We also have mouse-over information tips on the fields, a list of 'how-to documents' and many YouTube videos that demonstrate the use of CourseSales.com. If you find that an aspect of CourseSales.com does not have sufficient documentation let us know - and we will create it for you!
As CourseSales.com can be configured differently for each customer it is important to remember that some actions cannot be documented for useful general public viewing. In that case we can create customised tutorial videos or screenshot documentation for you.
After you have read the relevant help file for the area you are having trouble with (if relevant) you might want to send us a bug notification or feature request.
General Outline of a support request: bugs
There is excellent detailed guidance for submitting bugs however the summary is as following to ensure that we can provide quick and efficient support please make every effort to supply as much information as possible:
Summary: How would you describe the bug in less than 60 characters? It should quickly and uniquely identify a bug report as well as explain the problem, not your suggested solution. Good: "Process step does not create contact record when process step includes export" Bad: "Can't create contact" Bad: "Public pages should work with my web site"

Component: In which sub-part of CourseSales.com does it exist? eg. public pages, kiosk, trainer portal, administration portal, USI validation tool.

Operating System/Browser: On which operating system (OS) and browser combination did you find it? (e.g. Linux, Windows XP, Mac OS X. iPad, with Firefoix, IE, Opera etc) please include version numbers Example: "If you know the bug happens on more than one type of operating system, choose "All"

Description: The details of your problem report, including: -Overview: This is a larger detailed restatement of the summary. An example would be: "I have been using this process step, export and contact creation configuration for over 6 months, since the upgrade the contact is no longer created, though the export is created". -Component Ids: these are the IDs found in the URL of the page causing the issue eg. https://ccl.coursesales.com/processstep/edit?ProcessStepID=1044, ie the Process Step ID is 1044. Whenever quoting a Process step, course date, document, course master etc. refer to the ID, not the name. -Variations to the bug: Whether or not the bug takes place on other operating systems, browsers etc. It should look something like this: "Doesn't Occur On Mozilla/5.0 (Macintosh; U; Intel Mac OS X 10.5; en-US; rv:1.9.1b3) Gecko/20081107 Firefox/3.1b2″.

Steps to Reproduce: Minimized, easy-to-follow steps that will trigger the bug. If they're necessary, make sure to include any special setup steps. A good example of this woould be:

Visit the public site: http://ccl.coursesales.com/public/courses?h=1
Submit a registration on a course with the coursecategory ID= 4599
Login to the admin portal: http://ccl.coursesales.com/ and notice that after 20 minutes no contact is created
Process step to take registrations is 1044, process rule is 234, see documentID=HJK95KK for an example.

Actual Results: What CourseSales.com did after performing the above steps. An example would be: Export queued, document added, contact not added.

Expected Results: What CourseSales.com should have done, were the bug not present. An example would be: Export, contact and document should all be created.
Enhancement
When you would like a feature added, it is called an Enhancement and the severity is marked as such. To file a good enhancement request, simply follow these two steps:
Make sure you have explored all possible settings and other areas of CourseSales.com to confirm that what you want does not already exist.

Give a clear description on what, where and how this should be changed. Give the area of CourseSales.com to be improved, maybe even a screenshot if it would assist in understanding. Remember, there are many areas of CourseSales.com, so don't be offended if the team asks for more details or why this should be added. Providing a use case (a step by step explanation of how it will be used) will help.

We might discuss this via skype or phone to ensure we understand your requirements.
Configuration request
Configuration requests could be modification to an existing configuration or a new configuration eg: create a process step, compose an email, create an export etc. When making a configuration request ensure you cover the following:
Is this a change to an existing configuration or a completely new configuration?

Is the new configuration for private or public courses?

Can you provide a use-case scenario of how this configuration should work? ie describe to us how an administrator should process the new configuration and what the experience of the customer should be.

If a new request, has any configuration already been done? eg: created course masters, locations, venues, categories, process steps, process rules etc?

Should this functionality be the same as existing functionality - if so which existing functionality? eg: Emails with links to the new quiz are sent the same way the existing First Aid course is setup.

Are you prepared to format the data in the necessary spreadsheets we supply? eg to create quizzes we need data to create the fields efficiently.
This information will also be useful