Sending students PDF certificates (Statement of attainments or qualifications) can be a huge cost and logistic saving over paper based and postal delivery. These can be automatically delivered to students via email upon completion of the course.
The Australian Standards and Qualification Authority (ASQA) recommend regarding the use of digital signatures:
Regarding the digital signature, this is a feature available within Adobe Acrobat Pro, and many other applications with various features and costs; and

ASQA is an impartial government agency and is unable to endorse any software to assist providers in their compliance with the Standards. As digital signing/certification of documents is common technology your organisation may seek a recommendation from a software developer or online.
Please be aware that ASQA cannot teach providers specifically how to comply with the standards and cannot provide private rulings. This is because it is important for training providers to design tools and systems that meet their specific business needs and for each unique business to demonstrate to ASQA how the standards are being met.
The Adobe Approved Trust List (AATL) consists of member organizations from around the world and includes the members of the European Union Trust List (EUTL). They provide certificates that enable creation of trusted digital signatures, whenever the signed document is opened in Adobe Reader or Acrobat.
If you have a digital signature and digital certificate from an Adobe Approved Trust List member organisation then you can add this to your organisation file (hint: under the setup tab):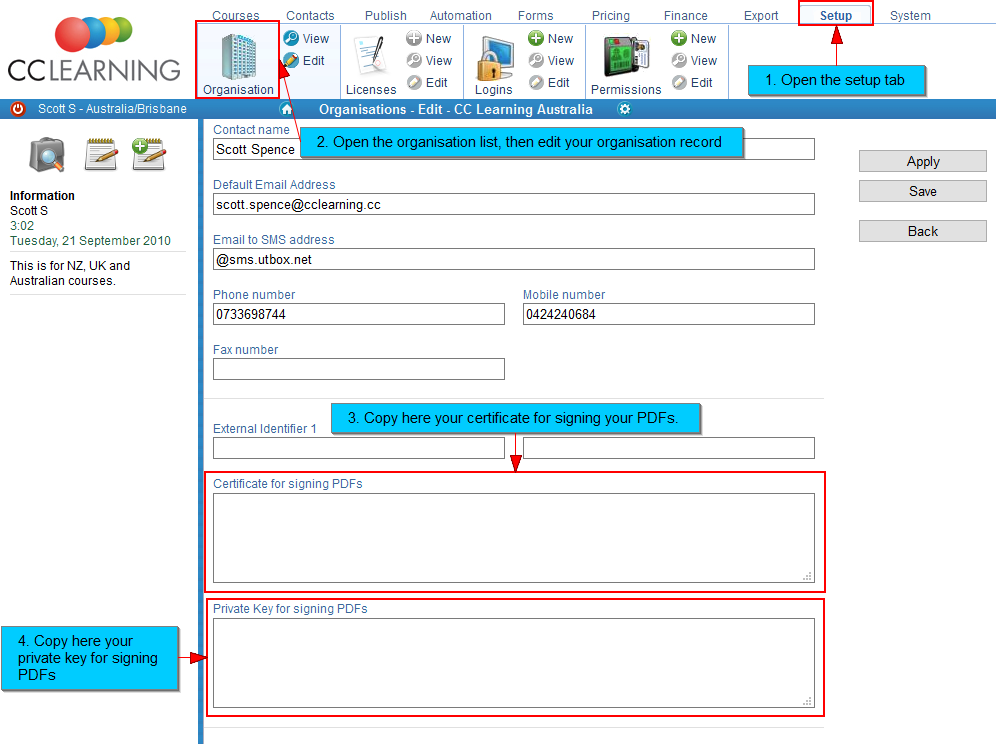 If PDF documents are issued, e.g. Statement of attainment or Invoices, and these are signed using your digital signature the document will show a visible warning if the document is altered.
Note
A scan of someone's signature is not a digital signature
An alternative (and just as valid) solution to confirm the authenticity of a statement of attainment, but probably more effort by the employer, is just phoning you to validate the external reference number for the registration and looking that up in CourseSales.com. So while digitally signed PDF statements of attainment are nice to have, easy to set up and will probably give you auditing kudos points, they are expensive and the process using the unique booking reference and confirming that is probably sufficient for most organisations from a practical perspective.